2016年3月11日(金)
★論文がオンライン出版されました。
Trial application of oxygen and carbon isotope analysis in tooth enamelfor identification of past-war victims for discriminating between Japanese and US soldiers
Hidetoshi Someda, Takashi Gakuhari, Junko Akai, Yoshiyuki Araki,Tsutomu Kodera, Gentaro Tsumatori, Yasushi Kobayashi, Satoru Matsunaga, Shinichi Abe, Masatsugu Hashimoto, Megumi Saito, Minoru Yoneda, Hajime Ishida
Forensic Science International doi:10.1016/j.forsciint.2016.02.010

2016年3月10日(木)
★山内忠先生が、博士(医学)の学位を取得されました。おめでとうございます。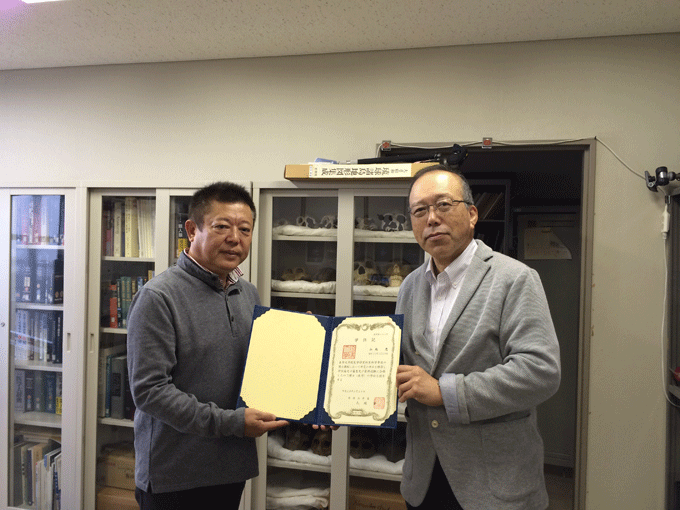 2016年3月1日(火)
★論文がオンライン出版されました。
Enigmatic Diversity of the Maxillary Sinus in Macaques and Its Possible Role as a Spatial Compromise in Craniofacial Modifications
Tsuyoshi Ito, Takeshi D. Nishimura
Evolutionary Biology doi: 10.1007/s11692-016-9369-4

2016年2月8日(月)
★論文がオンライン出版されました。
A comparative study of craniofacial measurements between Ryukyuan and mainland Japanese females using lateral cephalometric images
Tadashi Yamauchi, Ryosuke Kimura*, Akira Kawaguchi, Takehiro Sato, Kyoko Yamaguchi,
Takashi Toma, Kiyoto Miyamoto, Hitoshi Fukase, Tetsutaro Yamaguchi, Hajime Ishida
Anthropological Science, Published online 3 February 2016 DOI: 10.1537/ase.151206

★論文がForensic Science Internationalに受理されました。
Trial application of oxygen and carbon isotope analysis in tooth enamel for identification of past-war victims for discriminating between Japanese and US soldiers
Hidetoshi Someda, Takashi Gakuhari, Junko Akai, Yoshiyuki Araki, Tsutomu Kodera, Gentaro Tsumatori, Yasushi Kobayashi, Satoru Matsunaga, Shinichi Abe, Masatsugu Hashimoto, Megumi Saito, Minoru Yoneda, Hajime Ishida
Forensic Science International

2016年2月1日(月)
★木村亮介准教授が、平成26年度医学研究科研究・教育業績評価優秀者表彰を受けました。
おめでとうございます。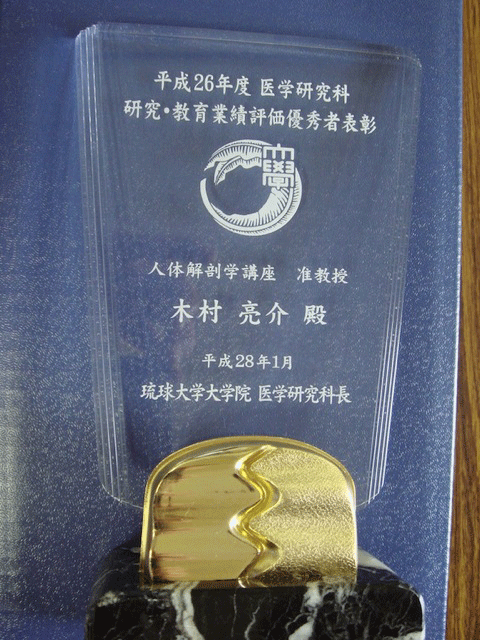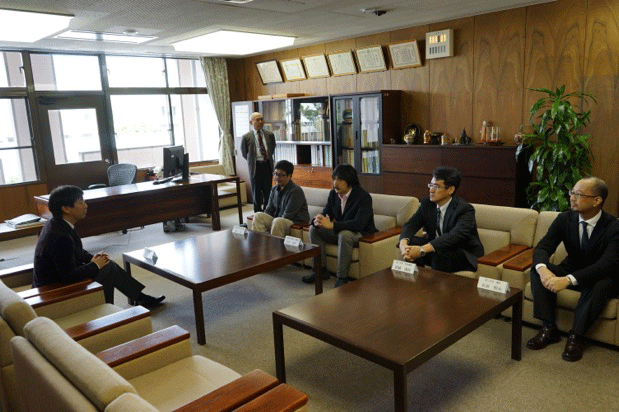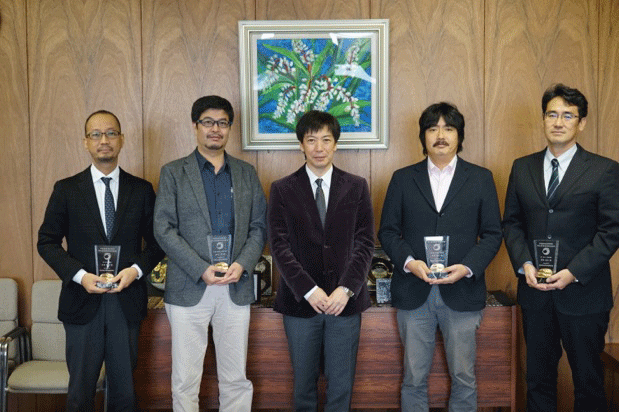 ※向かって右から2番目が木村亮介氏

2015年12月22日(火)
★論文が掲載されました。
The source-filter theory of whistle-like calls in marmosets: Acoustic analysis and simulation of helium-modulated voices
Hiroki Koda, Isao T. Tokuda, Masumi Wakita, Tsuyoshi Ito andTakeshi Nishimura
The Journal of the Acoustical Society of America 137, 3068 (2015)

2015年12月21日(月)
★論文がScientific Reportsに掲載されました。
Mapping the genetic diversity of HLA haplotypes in the Japanese populations
Woei-Yuh Saw, Xuanyao Liu, Chiea-Chuen Khor, Fumihiko Takeuchi, Tomohiro Katsuya, Ryosuke Kimura,Toru Nabika, Takayoshi Ohkubo, Yasuharu Tabara, Ken Yamamoto, Mitsuhiro Yokota, Japanese Genome Variation Consortium, Yik-Ying Teo, and Norihiro Kato
Scientific Reports 2015; 5; 17855.Published online 2015 Dec 9. doi: 10.1038/srep17855

★論文が掲載されました。
ゲノム情報から古代人に姿を探る 細胞工学
木村亮介
細胞工学 vol.34 No.12 2015年12月号
学研メディカル秀潤社

2015年11月27日(金)
★論文がAnthropological Scienceに受理されました。
山内忠さん、おめでとうございます。
A comparative study of craniofacial measurements between Ryukyuan and mainland Japanese females using lateral cephalometric images.
Tadashi Yamauchi, Ryosuke Kimura, Akira Kawaguchi, Takehiro Sato, Kyoko Yamaguchi, Takashi Toma, Kiyohito Miyamoto, Hitoshi Fukase, Tetsutaro Yamaguchi, Hajime Ishida

2015年9月10日(木)
★オンライン出版されました。
Geographic variation in nasal cavity form among three human groups from the Japanese Archipelago: Ecogeographic and functional implications
Hitoshi Fukase, Tsuyoshi Ito and Hajime Ishida
American Journal of Human Biology Article first published online: 8 SEP 2015 | DOI: 10.1002/ajhb.22786

2015年8月17日(月)
★論文がAmerican Journal of Human Biologyに受理されました。
Geographic variation in nasal cavity form of three human groups from the Japanese Archipelago: its ecogeographic and functional implications
Hitoshi Fukase, Tsuyoshi Ito, Hajime Ishida

2015年8月17日(月)
★山口今日子さん(博士研究員)が8月10日から、
Lecturer in Human Geneticsとして
School of Natural Sciences and Psychology Faculty of Science Liverpool John Moores University U.K. に赴任しました。

★ 佐藤丈寛さん(学振PD)が8月16日から
金沢大学 医薬保健研究域医学系 革新ゲノム情報学分野 助教に赴任しました。

お二人のご活躍を期待いたします。

★鈴木信司さんが、博士(医学)の学位を取得しました。おめでとうございます。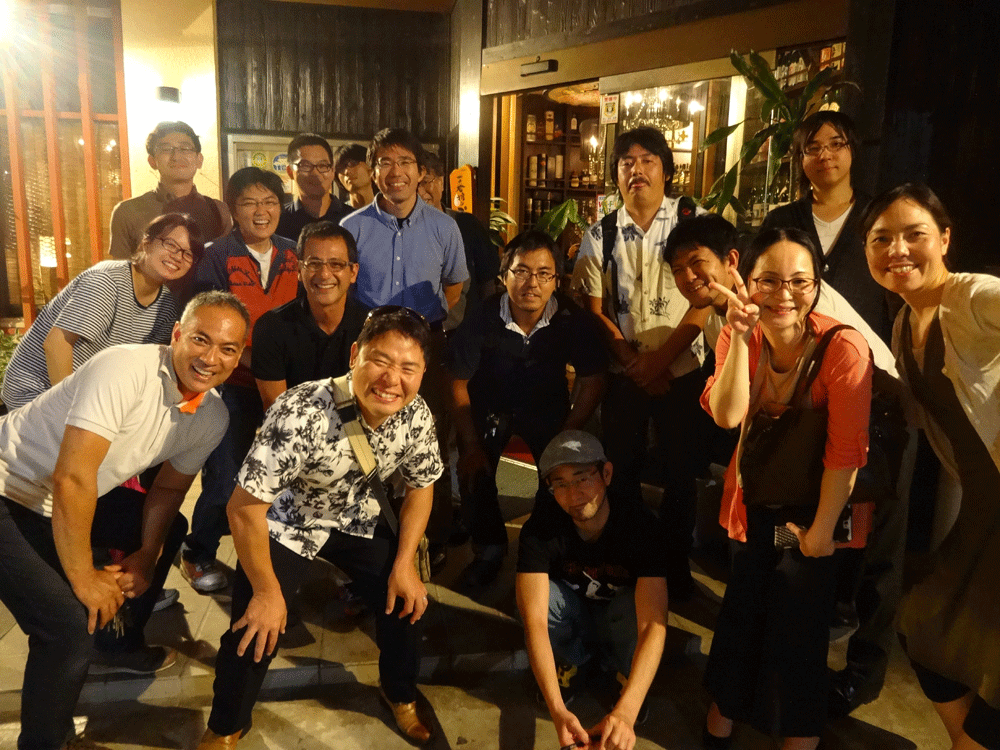 2015年7月21日(火)
★学振PDの伊藤毅さんが2015年度日本霊長類学会高島賞を以下の論文を基に、受賞しました。おめでとうございます。
1. Ito T, Nishimura TD, Hamada Y, Takai M. (January 2015) Contribution of the maxillary sinus to the modularity and variability of nasal cavity shape in Japanese macaques. Primates 56: 11-19.
2. Ito T, Nishimura T, Takai M. (January 2014) Ecogeographical and phylogenetic effects on craniofacial variation in macaques. American Journal of Physical Anthropology 154: 27-41.
3. Ito T, Nishimura TD, Ebbestad JOR, Takai M. (July 2014) Computed tomography examination of the face of Macaca anderssoni (Early Pleistocene, Henan, northern China): implications for the biogeographic history of Asian macaques. Journal of Human Evolution 72: 64-80.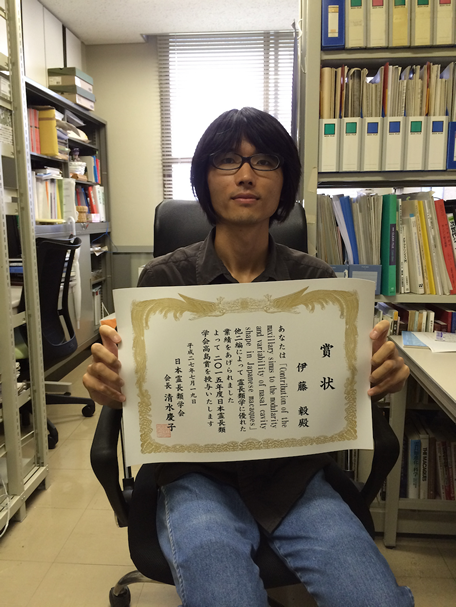 2015年7月19日(日)
★Nakagome et al (2015)の論文について、Molecular Biology and Evolutionの7月号にNewsが載りました。
Joseph Caspermeyer
New Genetic Evidence Resolves Origins of Modern Japanese
Mol Biol Evol (2015) 32 (7): 1913 doi:10.1093/molbev/msv074


2015年5月13日(水)
★論文が出版されました。

Maxillary sinus variation in hybrid macaques: implications for the genetic basis of craniofacial pneumatization
Tsuyoshi Ito, Yoshi Kawamoto, Yuzuru Hamada and Takeshi D. Nishimura
Biological Journal of the Linnean Society Volume 115, Issue 2, pages 333–347, June 2015, DOI: 10.1111/bij.12528

2015年4月16日(木)
★論文がオンライン出版されました。
Degenerative changes in the appendicular joints of ancient human populations from the Japan Islands.
Suzuki S, Sunagawa M, Shindo M, Kimura R, Yamaguchi K, Sato T, Yoneda M, Nagaoka T, Saiki K, Wakebe T, Hirata K, Tsurumoto T, Ishida H.
Quaternary International, http://dx.doi.org/10.1016/j.quaint.2015.03.027

2015年4月9日(木)
★第69回(2015年)日本人類学会大会のホームページが新設されました。

2015年4月1日(水)
★ 佐藤丈寛PDが、日本学術振興会科学研究補助金基盤研究(C)(代表)に採択されました。
研究課題名は、「西日本出土古人骨に対するゲノム解析の可能性調査」です。

★人事異動
 山口 今日子さんが、臨床研究教育管理センター(臨床研究教育管理学講座)ポスドク研究員へ異動になりました。
 伊藤 毅さんが、日本学術振興会特別研究員に就任されました。
 伊佐 睦実さんが、技術補佐員に採用されました。
 片岡 恵一さんが、大学院(博士課程)に入学されました。

2015年3月30日(月)
★論文がオンライン出版されました。
Weaning age in an expansion population: stable carbon and nitrogen isotope analysis of infant feeding practices in the Okhotsk culture (5th – 13th centuries AD) in northern Japan.
Tsutaya T, Ishida H, Yoneda M.
American Journal of Physical Anthropology, DOI: 10.1002/ajpa.22740

2015年3月20日(金)
★Quaternary International に論文が採択されました。
Degenerative changes in the appendicular joints of ancient human populations from the Japan Islands
Shinji Suzuki, Masanobu Sunagawa, Misaki Shindo, Ryosuke Kimura, Kyoko Yamaguchi, Takehiro Sato, Minoru Yoneda, Tomohito Nagaoka, Kazunobu Saiki, Tetsuaki Wakebe, Kazuaki Hirata, Toshiyuki Tsurumoto, Hajime Ishida
Quaternary International, http://dx.doi.org/10.1016/j.quaint.2015.03.027

2015年3月11日(水)
★統計数理学研究所と北里大学等との共同研究の論文がMolecular Biology and Evolution(IF=14.308)にオンライン出版されました。
Model-based verification of hypotheses on the origin of modern Japanese revisited by Bayesian inference based on genome-wide SNP data.
Nakagome S, Sato T, Ishida H, Hanihara T, Yamaguchi T, Kimura R, Mano S, Oota H and The Asian DNA Repository Consortium.
Mol Biol Evol (2015) doi: 10.1093/molbev/msv045 First published online: March 10, 2015

2015年2月26日(木)
★論文が受理されました。
Weaning age in an expanding population: stable carbon and nitrogen isotope analysis of infant feeding practices in the Okhotsk culture (5th–13th centuries AD) in northern Japan
Takumi Tsutaya , Hajime Ishida and Minoru Yoneda
Article first published online: 27 MAR 2015, DOI: 10.1002/ajpa.22740

★著書が出版されました。木村亮介先生が分担執筆をしています。
Human migrations and adaptations in Asia inferred from genome diversity.
Ryosuke Kimura
In: Kaifu Y. Izuho M, Goebel T, Sato H, Ono A. (eds)
Emergence and Diversity of Modern Human Behavior in Paleolithic Asia College Station: Texas A&M University Press Publication date: February 25, 2015
http://www.anthropology.jp/Info_MHBbook.pdf

2015年1月23日(金)
★木村亮介先生の論文がオンライン出版されました。
Common polymorphisms in WNT10A affect tooth morphology as well as hair shape.
Kimura R, Watanabe C, Kawaguchi A, Kim YI, Park SB, Maki K, Ishida H,Yamaguchi T
Hum. Mol. Genet. first published online January 22, 2015 doi:10.1093/hmg/ddv014

2015年1月20日(火)
★論文がHuman Molecular Genetics (IF=6.677) に受理されました。
木村亮介先生おめでとうございます。
Common polymorphisms in WNT10A affect tooth morphology as well as hair shape.
Kimura R, Watanabe C, Kawaguchi A, Kim YI, Park SB, Maki K, Ishida H,Yamaguchi T
Hum Mol Genet. 2015 May 1;24(9):2673-80. doi: 10.1093/hmg/ddv014. Epub 2015 Jan 22.

2014年はこちら